WE HELP OUR CLIENTS
EXCEED THEIR GROWTH TARGETS
REALIZING SUSTAINED GROWTH OVER TIME
Companies that have a clear organic growth agenda outperform competition and have much higher chances to survive in the long term.
Above-market growth can be realized by optimizing the commercial model or by building a performing innovation machine. 
In the digital era, business model disruption is often the most effective and fastest way of accelerating the pace of expansion.
Management teams should think about growth in new ways and across multiple dimensions and develop a multifaceted program to pursue growth over time.
ORGANIC GROWTH PROJECTS
OUR TRACK-RECORD IN ORGANIC GROWTH
92%
SUCCESS RATE
in achieving growth
26%
AVERAGE TOP-LINE GROWTH
achieved 12-18 months after project implementation
carried-out in 25+ years of experience
140+
THE FOUR AVENUES TO ORGANIC GROWTH
Organic growth can be achieved by pursuing at least four distinct avenues:

A. EXPANSION
Expand the scope of where and how current products are marketed, thus maximizing their revenue potential
B. DISPROPORTIONATE INVESTMENT
Disproportionately sustain the products or businesses with highest growth potential, being selective on the company's portfolio
C. INNOVATION
Develop new products / services and further expand the category

D. DISRUPTION
Disrupt the existing business and pursue new / additional business models
SYSTEMATIC IDENTIFICATION OF SOURCES OF GROWTH
Delivering organic growth requires identifying the sources of growth on which it makes most sense to focus, and getting the organization equipped to pursue them systematically.
We support our clients in taking these choices and in implementing them to their fullest potential. Here is how we proceed:
A first mapping phase will reveal what are the highest potential growth opportunities in the short, mid and long term. 
The Growth Diagnostic Wheel is a tool that we use to surface the articulated set of organic growth dimensions that should be taken into account.  It helps in identifying where to focus and in developing a plan for how to pursue growth over time.
When prioritizing initiatives, it is important to balance them across different time horizons and growth dimensions, by both optimizing the current and pursuing the new.
GROWTH DIAGNOSTIC WHEEL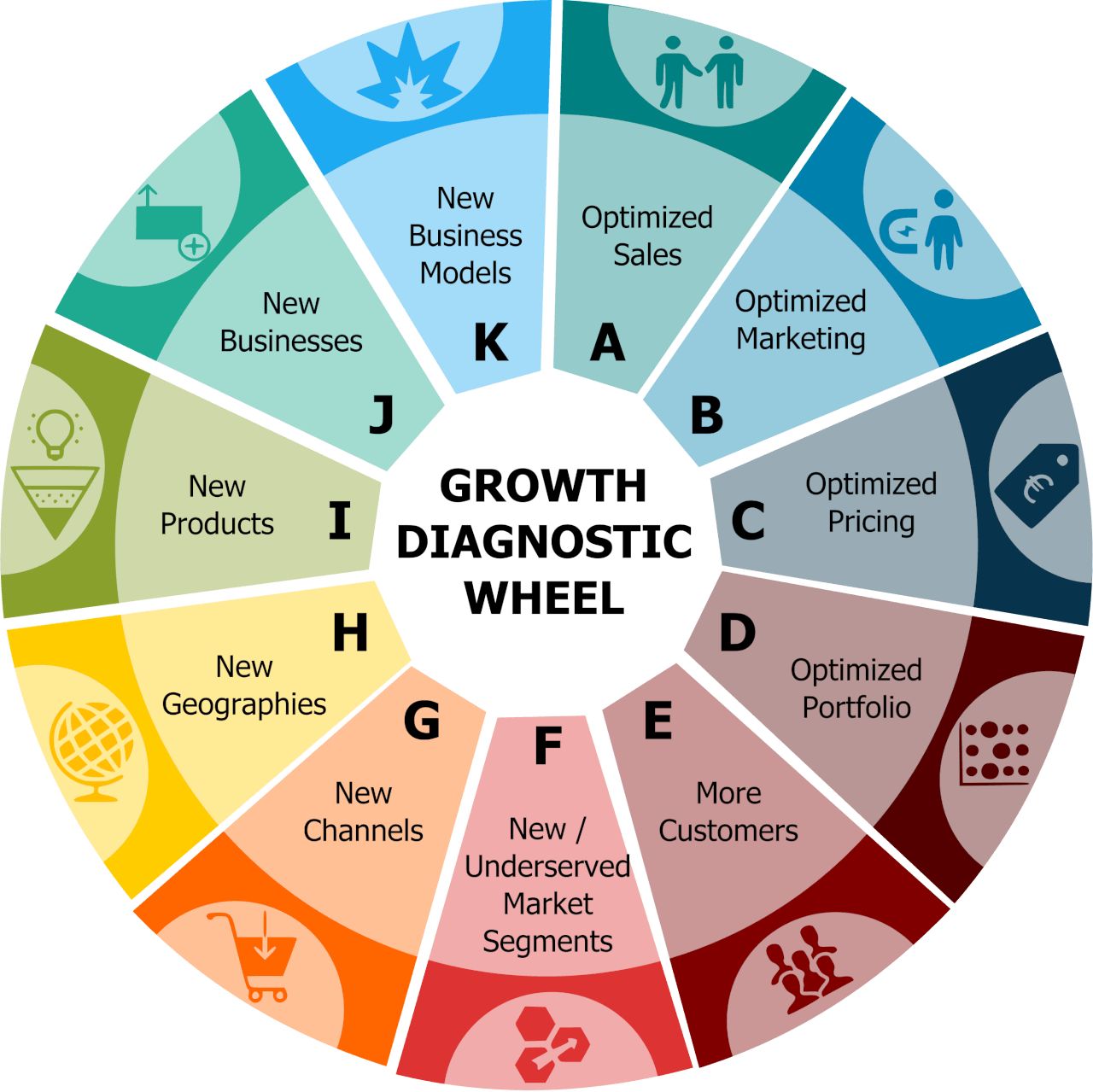 our behavioral approach to marketing consistently generates extra growth
LEARN MORE
DEVELOPING AN ORGANIC GROWTH STRATEGY: OUR APPROACH
We typically structure organic growth strategy projects in five steps:

1. SET ASPIRATIONS & CALIBRATE
In this step we reconcile the company's top-down growth targets and the upside of the current set of growth initiatives, and we assess the gap to be filled.
2. MAP ALL AVAILABLE SOURCES OF GROWTH
We then apply the Growth Diagnostic Tool to perform a granular scanning of growth opportunities.  We analyze customers, channels and market niches. We assess the opportunities of expansion into new geographies and new or underserved market segments.
We quantify the potential of new product variants and we use idea generation workshops to explore new products or lines of business that address market white spots.
Through creative sessions, we support our clients in exploring the potential of disrupting the existing value system and pursuing new business models.
3. ASSESS & CHOOSE GROWTH INITIATIVES
We then evaluate alternative growth initiatives across two dimensions: size of prize and right to win. We determine the business attractiveness, as well as company's advantage and value vs. competitors. We project revenues for the different growth streams and we evaluate capital requirements.
This allows us to prioritize the growth initiatives to be pursued, ensuring that there is a balanced portfolio of initiatives across different time horizons
Objective is to at the same time maximize the growth upside from current business, as well as building new revenue streams from product and business innovation.
4. DEVELOP PATH TO SUCCESS
For each prioritized source of growth, we move from business idea, to business case, to a detailed business plan that can be translated into execution.
The result is a step-by-step action plan, with detailed financial assessment and responsibilities allocation.
5. EXECUTE & REASSESS
Finally, if required, we may assist in the implementation of the plan, by e.g. accelerating the speed to market with rapid test, learning and optimization of the growth initiatives.  We can help in the identification of new customer and consumer insights and we can can offer ongoing support with creative sessions for new products and new businesses exploration.