We Help Clients Boost Their Growth Leveraging Digital Opportunities

THE NEED FOR A DIGITAL GROWTH ENGINE
The physical and virtual worlds are rapidly converging and customers interactions with brands progressively move to digital.  This resolves into an ever-increasing competition, a rising market complexity and a growing channel concentration.
As a result, companies need to paint a vision for their growth that strongly leverages online presence and virtual channels.  
This requires building the speed, scale and agility needed to outgrow an ever more aggressive and faster competition.  It requires being ahead of changes in technology and shaping capabilities and mind-set to pursue growth.

WE HELP CLIENTS BOOST THEIR ONLINE SALES
We work with traditional companies, as well as with e-commerce pure players to define how to boost their online sales.
We help clients define the strategy and develop the action plan for how digital will help the organization grow into the future.
We use a Digital Growth Engine diagnostic tool to identify the areas where our support is most needed.
We then design a project to help our clients close the gap in the identified areas. 
CREATING A DIGITAL GROWTH ENGINE – DIAGNOSTIC TOOL
Delivering organic growth in the digital era, requires identifying and focusing on the right growth platforms and developing a set of capabilities, along a range of dimensions.  Success is barely related to technological aspects only: the key points are strategy and business transformation.
The picture below shows the articulated set of choices and fundamental capabilities that need to be in place.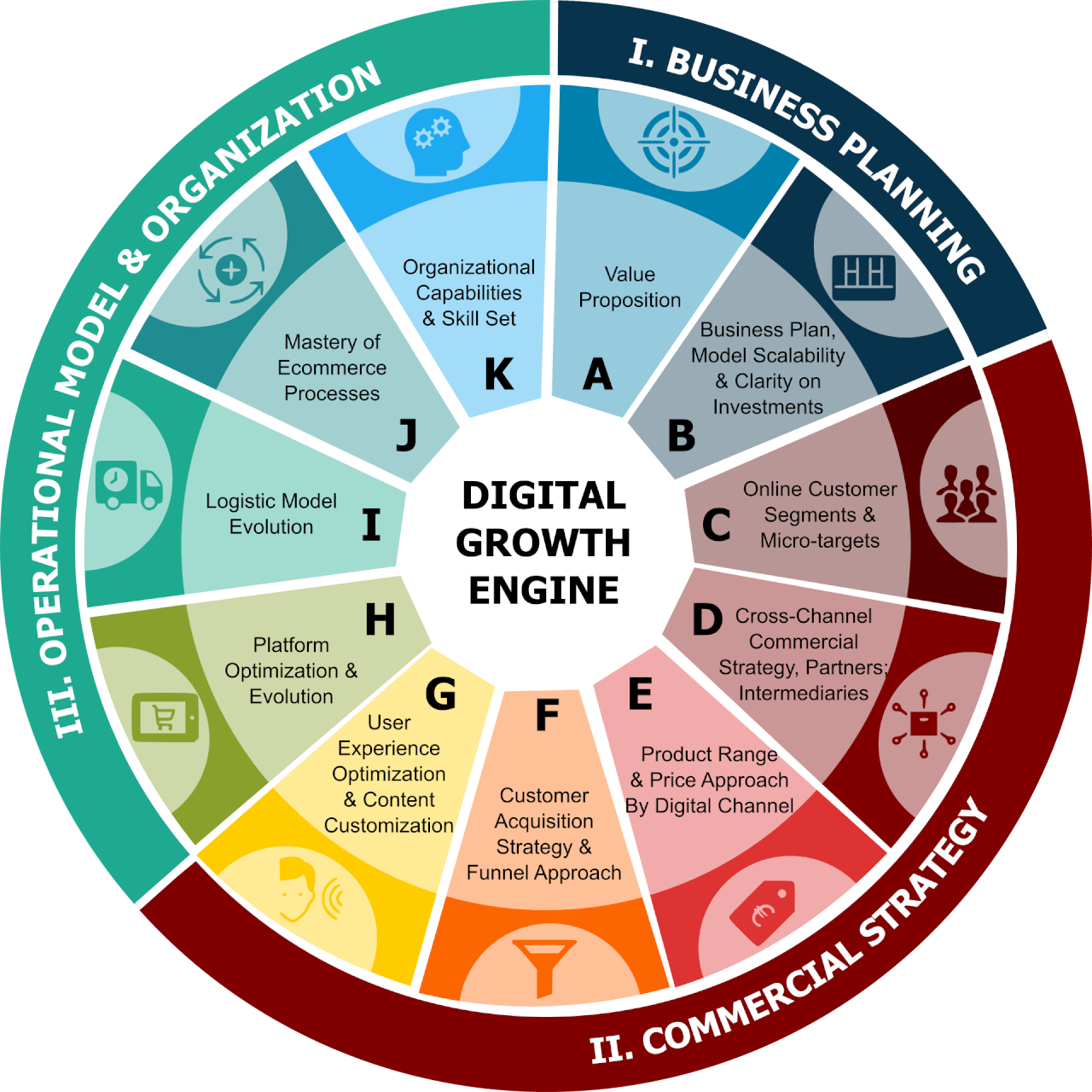 "Investments underestimation and excessive optimism on cash flow are among the primary reasons of failure of e-commerce businesses"
AREAS OF WORK
We use a Digital Growth Engine diagnostic tool to identify the areas where our support is most needed. We then design a project to help our clients close the gap in the identified areas. 
Depending on clients' specific needs, we may work on one or more of the aspects described below:
AREA OF INTERVENTION A – VALUE PROPOSITION & BUSINESS PLANNING

A. VALUE PROPOSITION
Define a differentiated value proposition.
The extreme competitiveness of the web makes it essential to identify a differentiated value proposition, that defines clearly why customers should buy from you and not from big and trusted online providers, portals or intermediaries (Amazon, Alibaba, ...).
Furthermore, you should be clear on the reasons why customers should buy through a website and not through offline channels.
B. BUSINESS MODEL
Develop a scalable business model, estimate investments, revenue generation & break-even.
Investments underestimation and excessive optimism on cash flow projections are some of the primary reasons of failure of new e-commerce businesses.
Building a scalable model, that ensures break-even not too far away in time and balances opex with capex is essential. There needs to be a clear view of how revenues will be built through traffic generation, conversion and transaction value. And there needs to be a vision for how the "make or buy" model will evolve over time.
"Understanding the cross-channel customer journey is key to align image, assortment and pricing"
AREA OF INTERVENTION B – COMMERCIAL STRATEGY

C. ONLINE SEGMENTS & MICRO-TARGETS
Map & prioritize online customer segments & micro-targets. Build meaningful customer personas.
Web listening and / or ad-hoc research can be used to develop an in-depth understanding of customers.  Customers segments and primary targets should be quantified and chosen.  Offline targets should be aligned with online and mobile targets.
The vast amount of information on customer behavior and desires should be brought together to form a meaningful picture of the customer, able to convert data into relevant insights.
Digital targets and mobile targets should then be translated into behavioral micro-targets for specific digital and mobile marketing activities.  Target selection parameters should be identified on the different digital platforms.

D. INTERMEDIARIES, PORTALS & PARTNERS
Develop a cross-channel commercial strategy. Choose intermediaries, portals & partners.
If the company sells both online and offline, there needs to be a vision for how the two channels will be integrated, making sure that customers form the perception of a unique company. 
Different online channels, own and third-party, need to be orchestrated, so that company image, assortment and pricing are aligned. Mapping and choosing the right intermediaries, portals and partners is key in this phase.
Understanding the cross-channel customer journey and defining the points of leverage where to intervene is key. Excellence in CRM is needed to manage the different touch-points in a prompt and coordinated way.

E. PRODUCT RANGE & PRICE BY CHANNEL
Define product range & price approach by digital channel.
Pricing and product range are key to win and need to be orchestrated by channel.
Specifically, assortment strategies have a significant impact on the average transaction. Assortment should balance high-selling traffic generator products with niche products that deliver margin. An attentive profitability analysis should inform decisions.
Pricing strategy needs to be informed by competitor pricing and should be consistent with customer expectations.  A dynamic pricing approach should be adopted, with clear price optimization and price management rules.

F. CUSTOMER ACQUISITION STRATEGY
Develop a customer acquisition strategy by stage in the funnel.
There needs to be a clear vision for how to influence customer behavior at different stages of the purchase funnel. 
This requires working on different dimensions, such as increasing traffic and customer reach, as well as stimulating conversion. 
Basket maximization, repurchase and customer reactivation are strategic levers to boost the revenue stream.
This requires working on different fronts, such as orchestrated management of marketing levers, assortment management, communication, partner management, customer service, logistics.
G. CONTENT & USER EXPERIENCE
Optimize content and user experience. Define and personalize messages by online audience.
User experience should be designed to match business objectives. It should be informed by content strategy, target audience, user scenarios and competitor analysis.
Content greatly influences the overall customer interaction, driving additional traffic and increasing click-through rate and social sharing. It has an impact on conversion rate, up-selling and cross-selling. Carefully crafted product descriptions reduce returns, refunds and customer service workload.
Value-based, life-cycle and behavioral personalization should be used to customize messages and make them contextually relevant, so that conversion can be maximized at every stage of their journey, average order value can be increased, as well as customer lifetime value and marketing ROI.  Machine learning can be used to predict and shape customer behaviour real time.
"The operational model might need to evolve quickly as the company grows, so a plan for how operations will be managed over time should be in place"
AREA OF INTERVENTION C – OPERATIONAL MODEL & ORGANIZATIONAL TRANSFORMATION

G. PLATFORMS
Optimize platforms to drive competitive advantage.
Consistent, high-quality customer interactions are a key competitive differentiator.  Platforms are the enabling tool to achieve that, providing superior convenience, better segment coverage, value-added services and customer insights.
Advanced CRM and data-management capabilities provide a comprehensive and dynamic view of customer data, while site-personalization platforms adapt the offer based on shopping profiles.  Advanced technology can be used to monitor competitors and adjust prices.
I. LOGISTIC MODEL
Plan the logistic model and how it will evolve over time.
Excellence in logistics is a core competence when transferring sales online.  It is essential for customer satisfaction and has a key impact on sales volumes. In addition, it is a significant item in the cost structure.
Defining the logistic model and taking the correct make or buy decisions for its components is therefore essential. Furthermore, the model might need to evolve quickly as the company grows, so a plan for how logistics will be managed over time should be in place.

J. MAKE-OR-BUY & BACK-OFFICE PROCESSES
Innovate and master back-office processes. Take adaptive make-or-buy decisions.
Without the proper  processes in place it's more than easy for e-commerce players to fail. 
The mastery, digitization and constant innovation in back-office processes such as, e.g. order fulfillment, payments, inventory and supply chain management, are key to success.  Speed in adopting new tools and approaches across the value chain is important to innovate, streamline supply chains or customer experience, boost efficiency and manage costs.
On the other side, value chains are progressively disaggregating and players need to take "make or buy" decisions regarding to which extent they should build functions internally or simply plug into their value chains a third-party offering, such as e.g., businesses logistics, online retail "storefronts," and IT services. 

K. ORGANIZATIONAL CAPABILITIES
Define the needed organizational capabilities and close existing gaps.
Creating a culture that secures innovation and execution is often key to succeed in the digital world.  For traditional companies that have expanded to online, closing the digital capability gap is a fundamental topic: different knowledge and skills are required to succeed in the digital space.
Totally new organizational roles are needed and functions with little importance in the offline space become critical when operating online.  Organizational structure and metrics should be redefined to support digital aspirations. To the point that, very often, companies opt for managing the two legs as separate entities.
Identifying what are the critical capabilities that are needed to succeed and how the gaps will be closed, either by evolving the organization or by acquiring new skills is key to succeed.